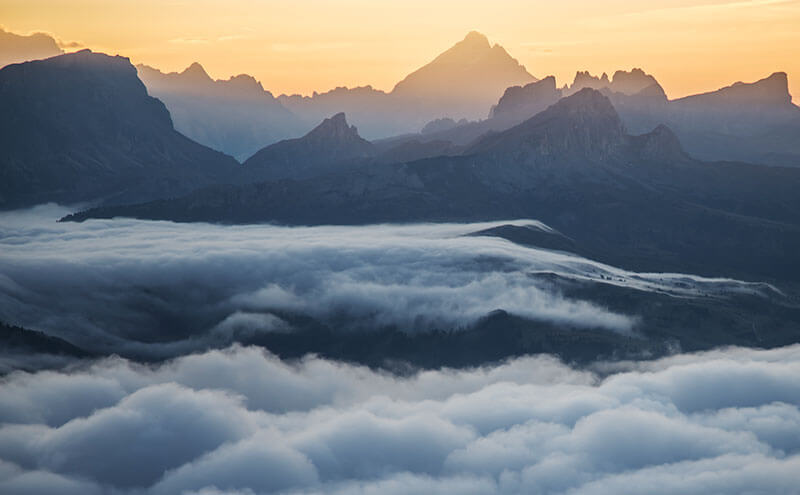 The hotels in
Corvara
,
Colfosco
,
La Villa
,
San Cassiano
,
Badia
and
La Val
offer extensive services as well as comfort and tradition, for an unforgettable wellness and activity holiday in Alta Badia. Choose your family hotel, wellness hotel, hiking, biking or ski hotel from an extensive selection and you can look forward to a thoroughly relaxing stay in the Dolomites, a UNESCO World Heritage site. In the
guesthouse
,
bed & breakfast
and
residence
accommodation in Alta Badia a warm and cosy atmosphere awaits – here your wellbeing is top priority.
And those who prefer to spend their holidays in a holiday apartment will also be spoilt for choice in Alta Badia. The six villages,
Corvara
,
Colfosco
,
La Villa
,
San Cassiano
,
Badia
and
La Val
offer apartments to suit every taste and to satisfy every requirement. Whether right at the village centre, directly on the ski slopes or in a more peaceful spot slightly outside town, there is one thing that all of the holiday apartments in Alta Badia have in common: they all offer the highest level of hospitality and comfort. For nature-lovers, hikers and skiers, there are various well-appointed
chalets
in Alta Badia in which you can spend the night surrounded by the fascinating natural landscape of this UNESCO World Heritage site.
During the winter in Alta Badia the well-prepared ski slopes of the world famous
Dolomiti Superski skiing region
are waiting to be explored. The Gran Risa in La Villa is notorious for its World Cup skiing race, which takes place each year in December. Numerous cross-country ski trails, toboggan runs and guided snowshoe hiking tours through the enchanting snow-covered landscape of the Dolomites round off the long list of activities available to non-skiers. Look forward to the Après Ski in the afternoon and relax in the evening with a nice glass of wine accompanied by local Ladin specialities as well as international dishes, in the celebrated
gourmet restaurants
in Corvara and San Cassiano. Over the
Summer
the Alta Badia holiday region offers well signposted trails through the meadows and forests and right up to the tallest mountain peak – sure to entice sporting enthusiasts, hikers, climbers and mountain bikers.
On Alta Badia Net you can find a large selection of hotels, holiday apartments, guest houses, chalets, Residence and bed & breakfast establishments for your wellness, hiking or skiing holiday in Alta Badia, as well as
useful information
regarding the villages, sport and leisure options, cultural and
tourist attractions
of this incredibly beautiful holiday region at the heart of the Dolomites.
Resort Alta Badia in South Tyrol - Active winter and summer holidays
The sunny Dolomitic valley of Alta Badia is a popular touristic destination in the Dolomites, settled in the natural breath-taking landscape of the UNESCO World Heritage Site
The Ladin Alta Badia is settled at a high of about 1.615 m and stretches along 35 km in the southeast part of South Tyrol. In a perfect sunny position between Pusteria Valley, Cortina, Arabba, Fassa Valley and Gardena Valley, it involves the localities of Colfosco, Corvara, La Villa/Stern, San Cassiano, Badia with the villages of Pedratches and St. Leonard and La Val.
Alta Badia conquers not only for its unique view on the mountain landscape of the famous Dolomites, but also, and most of all, for the authenticity of the Ladin language and its origins, as for the unique culture and rich traditions and customs of the Ladin linguistic group.
Live the paradisiac holiday locality of Alta Badia in all its best aspects and imagine the exciting and various summer or winter vacation in the heart of the Dolomites.
In summer as in winter Alta Badia offers uncountable sport and free time activities for active guests or for those looking for relax. In the winter months, untouched natural landscapes covered with snow are waiting for you in the ski resort Dolomiti Superski, which involves a total number of 12 resorts and 1200 km slopes.
It doesn?t matter if it is mountain bike, golf, riding or climbing - in Alta Badia you will have a wide choice of exciting outdoor activities in summer too, for an awesome entertainment in Alta Badia.
Corvara in Alta Badia
At the feet of the Sassongher massif lays Corvara, a fantastic starting point for excursions and winter tours, but also summer wandering.
Tourist board Corvara:
Tel. +39 0471 836176
Fax: +39 0471 836540
Colfosco in Alta Badia
The historical small village of Colfosco, geographically the highest touristic locality in Alta Badia welcomes you from the entrance of the natural park Puez- Odle.
Tourist board Colfosco:
Tel. +39 0471 836145
Fax: +39 0471 836744
La Villa in Alta Badia
The well-known and renowned ski slope in Alta Badia is the Ski World Cup slope, the Gran Risa. In summer the Colz Castle, known also as Rubatsch Surveillance Point, is worth a visit.
Tourist board La Villa:
Tel. +39 0471 847037
Fax: +39 0471 847277
San Cassiano in Alta Badia
Between the Fanes plateau and the Pralongia fields, San Cassiano invites you to taste delicious gourmet specialities in a renowned Michelin Restaurant.
Tourist board San Cassiano:
Tel. +39 0471 849422
Fax: +39 0471 849249
Badia in Alta Badia
Between the still well conserved village and the main mountain Santa Croce, lays the small locality of Badia.
Tourist board Badia:
Tel. +39 0471 839695
Fax: +39 0471 839573
La Val in Alta Badia
Tradition and customs, Ladin language and culture are very important in the rural and at the same time idyllic village of La Val.
Tourist board La Val:
Tel. +39 0471 843072
Fax: +39 0471 843277